Delta Plus: Eyewear Catered for Everyone
Thursday, 19 July 2018 | Admin
For over forty years, Delta Plus have had your back. A major worldwide player when it comes to Personal Protective Equipment, Delta Plus have provided innovative new technology that has protected your hands, heads, bodies and eyes for years. They are committed to producing quality, long-lasting products that work for everyone, and it is that vision that has put them on top of the pile year in, year out.
Delta Plus understand the importance of having catered products for specific needs. Whether it be mirrored glasses for bright environments, or strong clear visors for hot conditions inside, Delta Plus have produced eyewear for everyone. We have created this short guide to take you on a tour of our Delta Plus selection because we believe Delta Plus is among the best, and why wouldn't we want to showcase the best?
Delta Plus: Eyewear Catering for Everyone
Delta Plus are guaranteed to have eyewear for you, specialising in a wide range of different types of safety goggles and glasses. In this guide we show the best in each type, talking in depth about their range of safety glasses, goggles and lenses.
Safety Glasses
Something that Delta Plus do well is safety glasses. An extremely wide range, each with their own standards, design, uses and coloured lenses, mean that you'll never be left for wanting when choosing your Delta Plus safety glasses. In this section we discuss the best of Delta Plus's Clear, Mirrored and Smoked Lenses.
Clear Lenses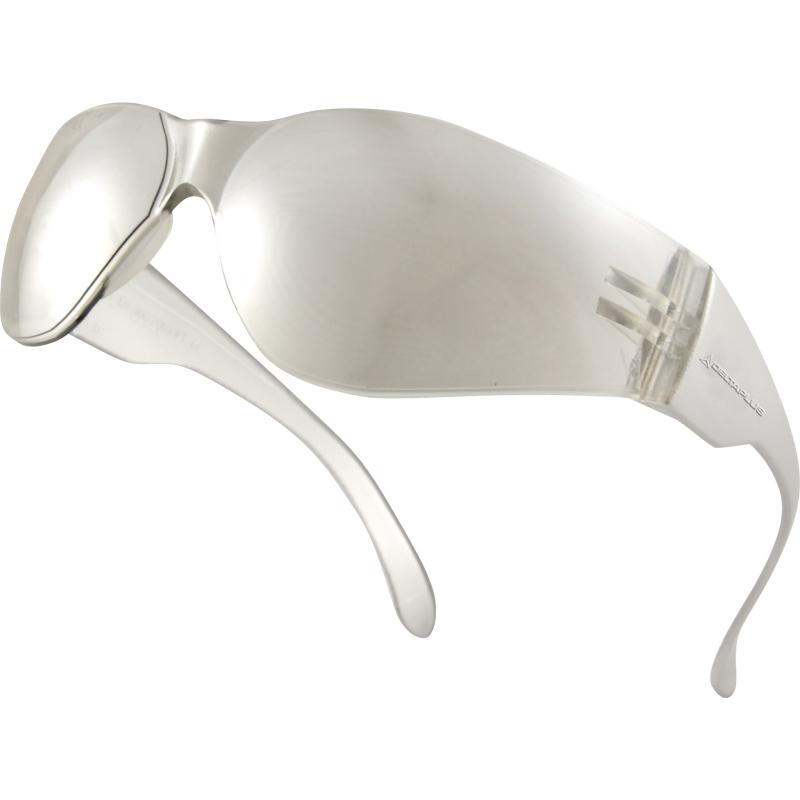 Clear lenses are the standard colour for safety glasses lenses, because they offer excellent visibility, strong mechanical protection and protect well against UV light. They allow most of visible light to break through, making them perfect for indoor environments. Delta Plus have a wide range, showing why clear glasses are so highly regarded.
The Delta Plus Brava2 Light Mirror Monobloc Safety Glasses use a super strong monobloc construction to ensure exceptional stability and durability. They are suitable for use with ear defenders and safety helmets, while their tough polycarbonate lenses won't break under pressure.
Mirrored Lenses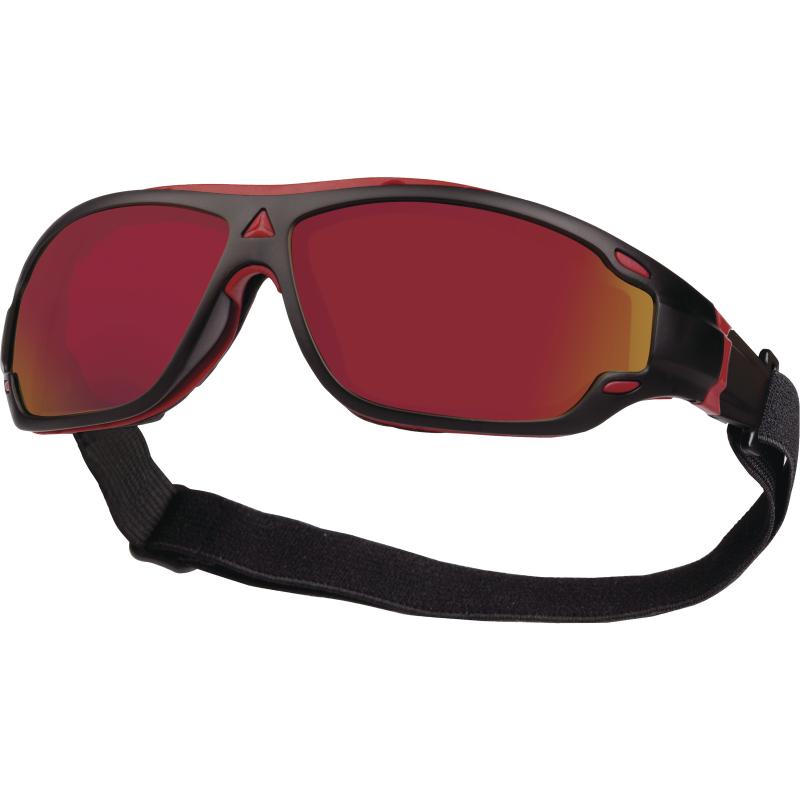 Mirrored lenses use a special coating on the outside of the lenses to reflect light and reduce sun glare, making objects appear darker. When mixed with lighter tints, this greatly improves visibility. Delta Plus understand the importance of mirrored lenses and their wide range exemplifies that.
The Delta Plus Blow2 Mirror UV Safety Glasses use tough polycarbonate lenses to offer exceptional shock resistance, while their interchangeable fixation arms allow for total comfort. The dark design makes the glasses ideal for use in bright conditions where protection against the sun is necessary.
Smoked Lenses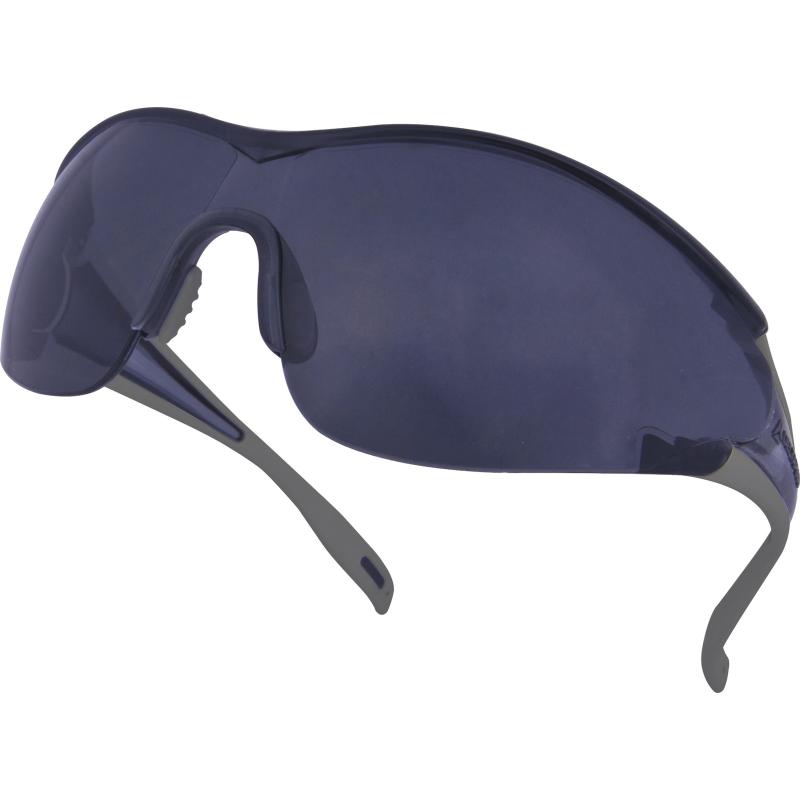 If lenses are dark, smoked, or black, they are probably best suited to the lightest of environments as they prevent light from breaking through and damaging your eyes. Delta Plus have a wide range of smoked glasses that are best suited for workers who spend long periods outside, such as drivers and construction workers.
The Delta Plus Egon Smoke Safety Glasses are a top pick because they use a sporty and aesthetically pleasing style while offering excellent protection against sun glare and mechanical threats. For any extended use applications outside in bright light, these should be a top pick.
Other Safety Glasses Lenses
Delta Plus's range of safety glasses doesn't stop there. Yellow is largely popular among people who work in hazy light or work among blue screens. The Delta Plus Egon Yellow Safety Glasses are popular because they offer excellent comfort and longevity, while the Delta Plus Kilauea Polarised Anti-Static Safety Glasses are popular because their polarised design reflects light while offering exceptional visibility.
Safety Goggles
Safety Goggles offer more protection than glasses because they use a singular frame that covers a far wider area. They also offer high visibility and can protect against heat as well as light. Delta Plus offer a range of goggles that are designed to protect against a wide range of different threats in a wide range of different industries.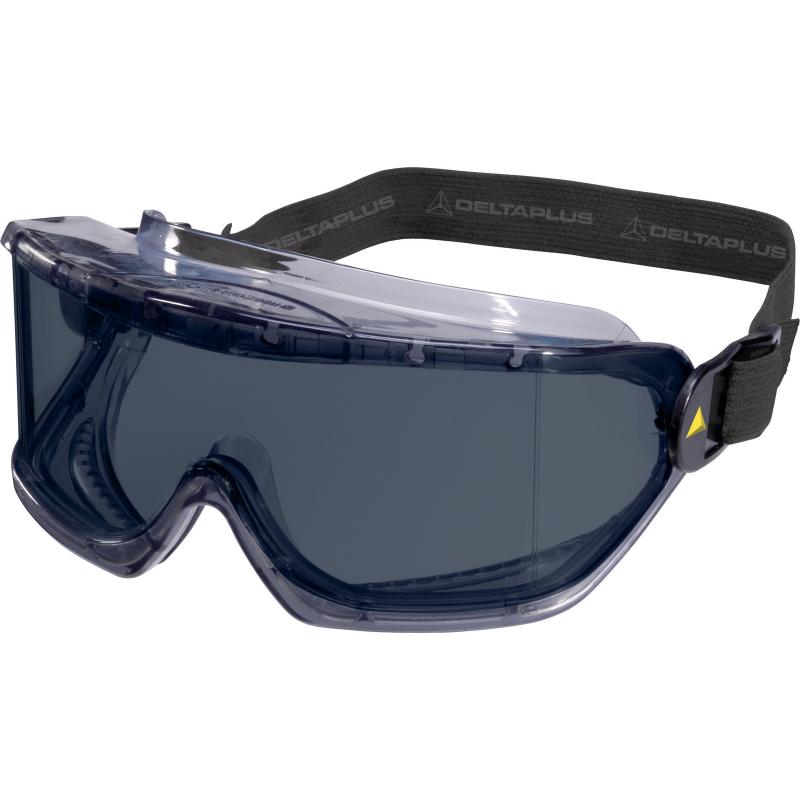 Delta Plus Galeras Smoke Safety Goggles offer exceptional versatility
Some goggles that show why Delta Plus are considered at the top is the Delta Plus Galeras Smoke Safety Goggles, which use a thick PVC and nylon frame and polycarbonate lenses to offer exceptional high-energy impact protection. They offer outstanding protection against UV light, and indirect ventilation keeps the face protected at all times. There aren't many goggles on the market with as much to offer as the Galeras Smoke Goggles.
Pushing Boundaries in Protective Eyewear
Delta Plus have been pushing boundaries in PPE for years, and things are no different with their eyewear range. Whether you want mirrored, dark or clear lenses, or some tough, impact-resistant goggles, they're guaranteed to have it. They even sell Visitor Safety Glasses, for when you want cheap affordable glasses for visitors to your factory or business.
We have a wide range of Delta Plus eyewear here at Safety Goggles, so don't hesitate to browse our wide selection. If you have something to add or would like to make a comment, please do so below. If you would like to talk to an expert here at Safety Goggles, please call our helpline on 020 7501 0594.