EN 166 Explained
Thursday, 14 June 2018 | Admin
Providing the correct safety goggles for your eyes is crucial, which is why any product that offers eye protection must adhere to a number of different EN standards. The tough procedures that safety glasses undergo before making it to the shop floor are done in your interest, however the different numbers, codes and letters relating to the score of the glasses can easily be misunderstood. As EN 166 is the most basic, minimum standard present on all eyewear protection, we've created this short guide to help you understand what you're looking at.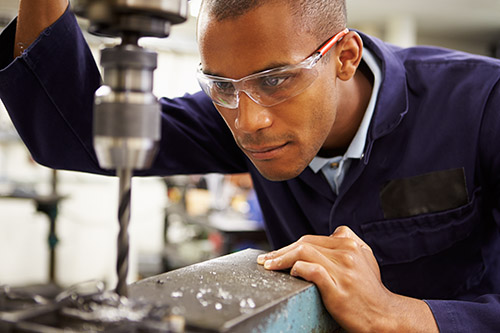 EN 166 gives you all the information you need to select the right goggles for the job
EN 166 applies to any safety goggles that aren't already covered by their own specialist standard, such as those for laser eye protection or for those that protect against the sun. How the glasses performed relating to EN 166 can be found on the frame of the glasses, and it appears as a small series of letters and numbers.
Usually, you will see the code relating to the brand of the glasses, followed by 'EN 166', followed by a number of numbers or letters which relate to either the strength of the frame and the optical class of the glasses. Additionally there may also be code relating to the glasses style and protection, electrical risks, thermal risks or lens treatments, however this isn't always the case.
Optical Class and Mechanical Strength
The two most important categories relate to optical class and to mechanical strength. A number will be followed by a letter that should correspond to these two categories. The first number explains how often the glasses should be used and the second letter details the level at which the glasses can withstand impact.
Optical Class
There are three different types of optical class, each level detailing how often the glasses should be used. The three levels are
Class 1: Permanent wear (distortion free)
Class 2: Occasional wear
Class 3: Brief wear
Strength Rating
The strength rating describes at which point the glasses will break upon impact and an additional rating regarding how the glasses relate to temperature.
S: Minimal impact resistance - Impact with a small object travelling at 12 meters per second
F: Low energy impact - Impact with a small object travelling at 45 meters per second
B: Medium energy impact - Impact with a small object travelling at 120 meters per second
A: High energy impact - Impact with a small object travelling at 190 meters per second
T: Impact test at extreme temperatures - -5°C/ +55°C (optional)

Style and Protection
The optical class and strength rating categories could be followed by a series of either letters or numbers, however this is optional and they will only appear if relevant. The first three numbers cover chemical risk, followed by electrical risk, thermal risk and lens treatments.
Chemical Risks
3: Liquid splash protection
3: Liquid droplet protection
4: Resistance to large dust particles over 5 microns
5: Resistance to gases and dust particles under 5 microns
Electrical Risks
8: Resistance to short circuit ARCs
Thermal Risks
9: Resistance to molten metal splashes and hot solids projections
Lens Treatments
K: Resistance to damage by small particles (anti-scratch)
N: Resistance to fogging (anti-fog)
These four categories are not mandatory, and will only appear if relevant to the goggles. Any other number or code which follows or precedes these will relate to a different standard.
Choose the Right Goggles for the Job
We hope we've helped you understand EN 166 a little bit further. Remember that all the information on EN 166 should be located on the frame of the glasses, and if it isn't there, we would recommend staying away and buying some accredited goggles instead. Here at SafetyGoggles.co.uk, we only sell the most trusted brands in our wide selection of safety goggles and safety glasses, and every single one will be covered by EN 166. If you have a question, or have something to add, either leave a comment below or contact us on 020 7501 0594, where one of our experts will be delighted to help.