Benefits of UV Filters
16 July 2018 | Admin
Picking out the right pair of safety glasses or goggles seems complicated enough, and we realise that paying attention to one more marking on an already endless list of requirements sounds like a nightmare. But bear with us, as protection from ultraviolet (UV) rays is more important than you might think.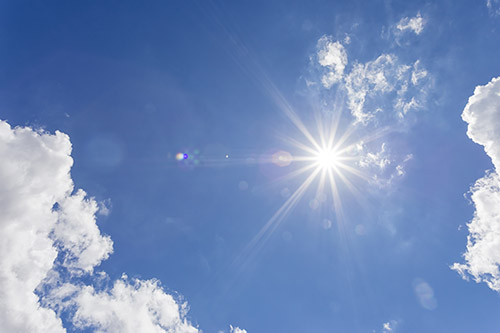 This short article is here to explain what the potential benefits of wearing glasses with UV filters are, and how you can find the right pair of safety glasses or goggles with UV filters without having to compromise any of their essential features. Read on to find our suggestions that could end up saving you time and effort in finding your ideal work glasses.
Is Ultraviolet (UV) Radiation Harmful?
Yes, UV radiation is not only extremely harmful to your skin, being one of the primary causes for a range of skin problems, from premature ageing to melanoma, but it can damage your eyes as well, especially the cornea and the lens. When you're not wearing sunglasses, over 99% of UV radiation is absorbed by the front of your eyes, which can in time lead to:
Cataracts (growths on the eye)
Corneal damage
Macular degeneration
Potential blindness
How Does UV Protection Work in Sunglasses?
To properly understand how sunglasses work, we first need to understand what UV rays even are and why they are so harmful to our skin and eyes. The main source of ultraviolet (UV) rays is sunlight, and, as the name suggests, UV rays are actually the bits of light located past the violet portion of the visible light spectrum. We divide UV light into three types: UVA, UVB and UVC.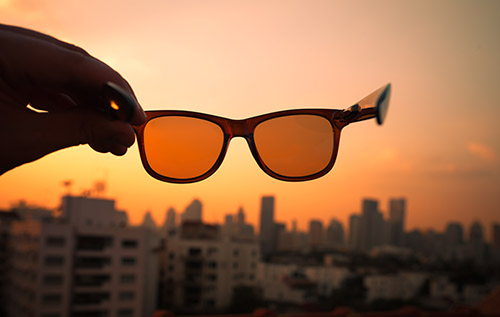 While UVC rays don't even reach the Earth, both UVA and UVB rays pose a danger to our health, with UVB being the most dangerous kind. Glasses that protect from the damaging effects of UV rays do so by simply preventing the UV light to pass through the lens. When choosing sunglasses, it's important to pick the kind that blocks from 99% to 100% of both UVA and UVB light.
Where Can I Find Safety Glasses That Protect Against UV Rays?
All safety glasses come with their own set of markings, and when you're looking for UV protection, it's important to pay attention to their lens marking. Lens markings are usually made up of four standards: Radiation Protection, Light Transmission, Optical Quality and Lens Properties.
When it comes to UV protection, what we need to consider is the first one. There are five possible Radiation Protection ratings that let you know how well your safety glasses will protect against UV rays:
Rating 2: UV protection (EN 170). May affect colour recognition.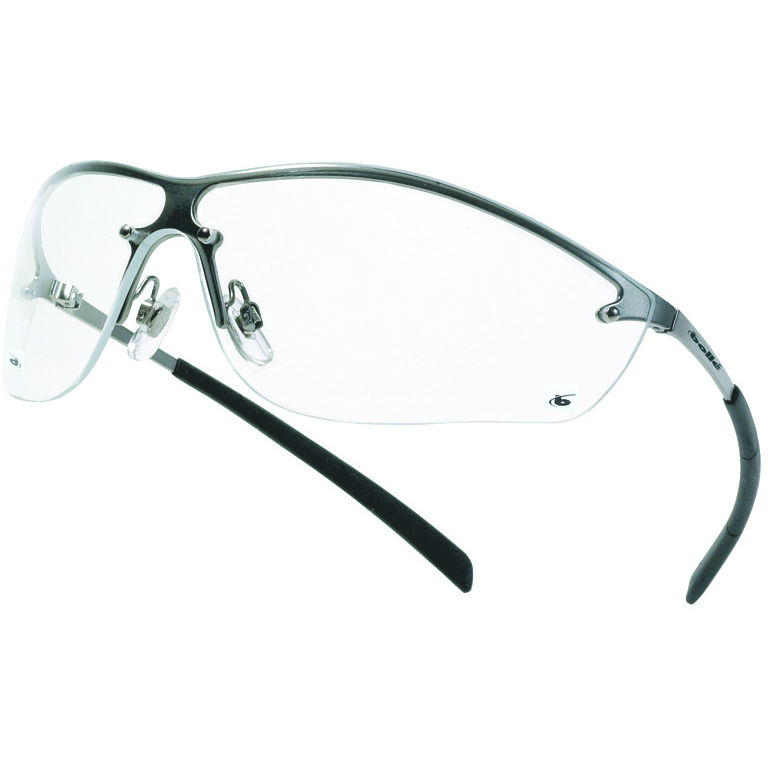 These Bollé Silium Clear Safety Glasses SILPSI are well-suited for a broad range of industries. They are scratch resistant and feature an anti-fog coating, panoramic view, flexible temples and adjustable soft nose pads to further improve your comfort.
Rating 2C or 3: UV protection (EN 170). The number 2C (previously 3) indicates the filter allows good colour recognition.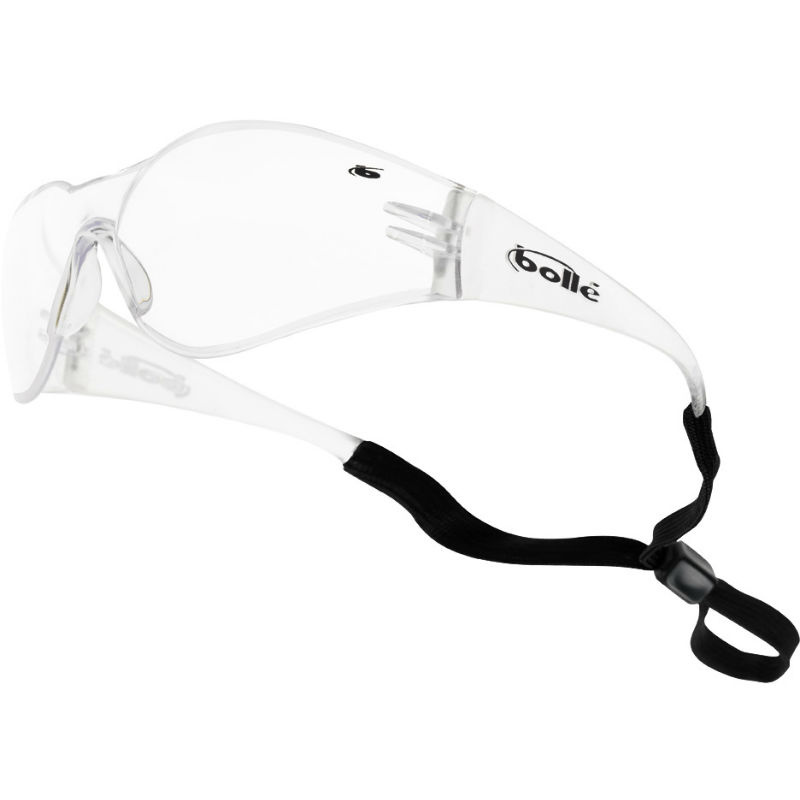 The Bollé Bandido Clear Safety Glasses BANCI come with a sports-style wraparound design that makes them even more efficient in blocking UV rays. While their scratch-resistant coating improves their longevity, the sports-style design with integrated side shields ensures protection from every angle.
Rating 4: Infrared protection (EN 171).
Rating 5: Solar protection (EN 172). 100% UV protection with no infrared protection.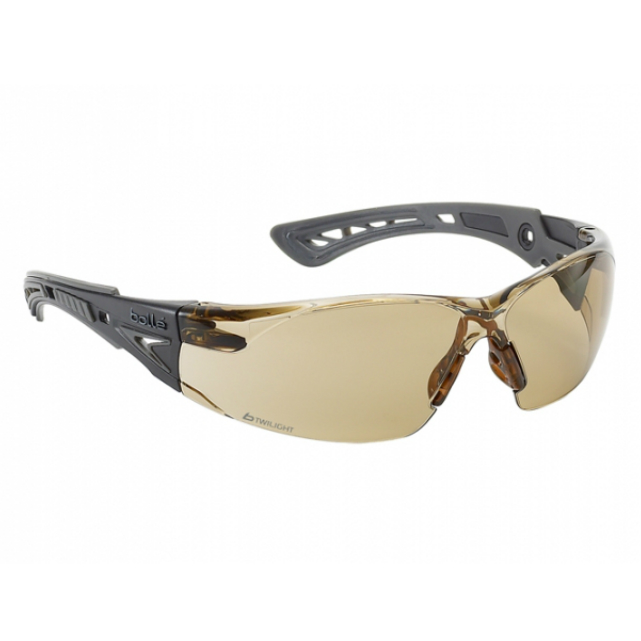 Fitted with Platinum and Twilight technology, the Bollé Rush+ Twilight Safety Glasses RUSHPTWI include anti-fog and anti-scratch coatings and blue light filters. They offer excellent protection from UV and solar radiation, as well as a range of mechanical risks.
Rating 6: Solar protection (EN 172). 100% UV protection with infrared protection.
Choose the Protection You Need
While shielding your eyes from the harmful UV rays is important in all aspects of your life, this is of course not the case when you are picking out safety glasses or goggles for indoor use. If your work doesn't require you to spend time in the sun, there really is no need to over-complicate things by paying attention to UV protection along with everything else.
Because we understand the importance of UV protection, we have a designated category for UV Resistant Safety Glasses. Feel free to explore our broad range of products and find the right pair for your needs.
If you want a little extra information or have something to add, please leave a comment below or call us on 020 7501 0594, where one of our experts will be delighted to help.