Portwest Safety Eyewear: Glasses, Goggles, and Visors
17 July 2018 | Admin
Here at SafetyGoggles.co.uk, we know that safety must come first in the workplace, and we only sell products from brands we know you can trust. One such brand is Portwest, a leading name in protective workwear.
Portwest provide a quality range of safety glasses, goggles, and visors, ensuring you can receive reliable eye protection. Read on to find out how the Portwest range of eyewear can provide you with versatile protection outside and indoors, all year round.
We've put together this concise guide to Portwest's eye protection range to help you choose the perfect pair of protective eyewear for you. The following products and features will be discussed:
Portwest Safety Glasses
If your job requires safety glasses, Portwest can provide you with the reliable protection you need. They have a wide range of lens types and frame styles to ensure that you can receive comfort and protection in a style that suits you.
Portwest Lens Types
Before deciding on a style, however, it's important to ensure that the lens type provides adequate protection for the particular task for which the protection is required. Offering a versatile selection of protective properties, the following lens types are available:
Clear Lens
The clear lens is a fantastic option if you're looking for general protection for the eyes, as surrounding colours are not altered. Many of Portwest's clear-lens safety glasses also offer additional eye protection by providing special lens coatings. For example, the Portwest Clear View Panoramic Safety Glasses PW13CLR conform to EN 170 with a rating of 2C-1.2 to filter ultraviolet (UV) light.

Clear View Panoramic Safety Glasses
Amber/Yellow Lens
An amber or yellow lens is particularly useful if you work in artificially or dimly lit environments, as the tinted lens helps to make surroundings appear brighter. The Portwest Amber Lens Classic Panoramic Safety Glasses PW33AMR are particularly useful for this, while also offering UV protection and scratch resistance.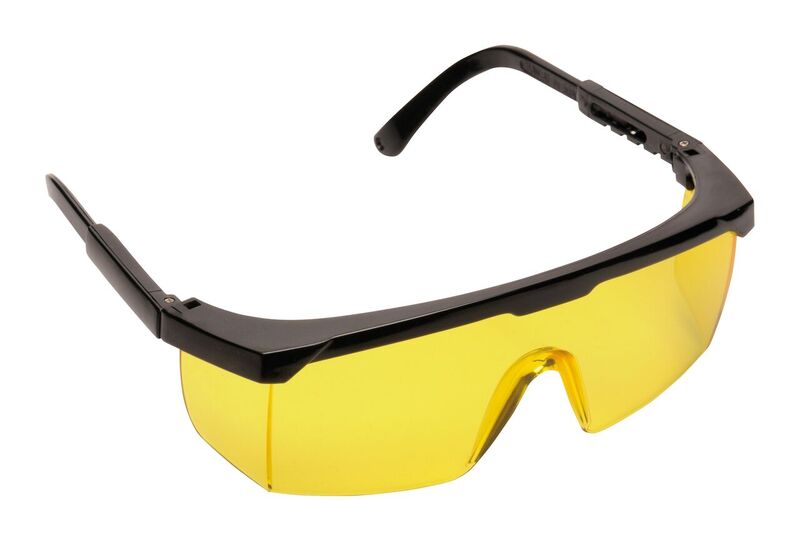 Amber Lens Panoramic Safety Glasses
Smoke/Grey Lens
Designed for working outdoors and in sunlit environments, Portwest's smoke-lens safety glasses protect the eyes from harsh sunlight. They are ideal for working in daylight and during the summer months where daylight is more plentiful; many of Portwest's smoke-lens sunglasses, such as the Portwest Umbra Polarised Spectacles, also conform to EN 172 to provide certified protection against sun glare.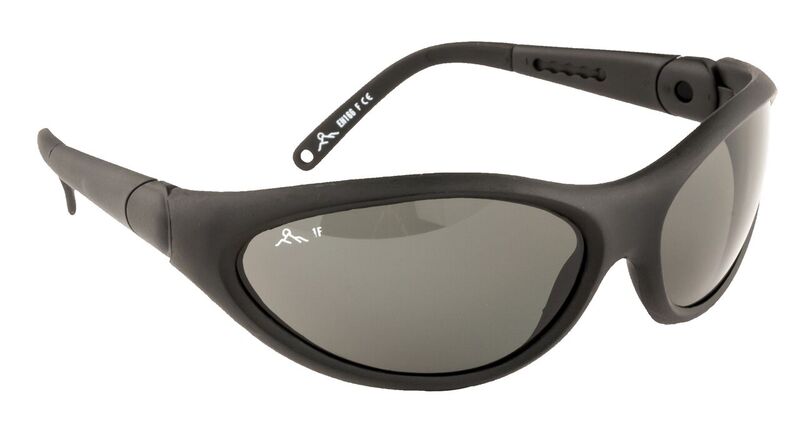 Smoke-Lens Umbra Safety Glasses
Mirror Lens
Some safety glasses, as seen with the Portwest Safeguard Safety Glasses, feature a mirrored lens. This design helps to reflect light away from the glasses, in turn reducing the amount of light that passes through the lens and directly reaches the eyes. This makes the mirror lens style ideal for working in brightly lit environments, increasing eye comfort and reducing the risk of damage to the eyes.
Portwest Frame Types
Once you know which lens properties you require, you can then begin to consider the frame types available. Catering to a wide range of styles, Portwest have designed multiple types of frames for their safety eyewear, from a classic clear polycarbonate construction to metal arms and more stylish sports-style nylon designs. Some frames are favoured for their aesthetic appeal, while others provide practical protective properties for the wearer. Examples include:
Extendable Arms
Many glasses have extendable arms, allowing them to be adjusted in length. This means they can fit most individuals, both enhancing comfort and reducing the risk of them slipping away from the face. An example of extendable arms can be found with the Portwest Hi-Vision Safety Glasses.
Ratchet Temples
Ratchet temples allow the angle of the glasses to be altered. Not only does this help to improve the fit of the glasses, but it also improves safety by ensuring that vision can be targeted exactly where it is required. Ratchet temples can be experienced with the Portwest Contoured Safety Glasses.
Sports Style
For the more fashion conscious, sports-style glasses could be the perfect choice. As seen with the Portwest Athens Sports Safety Glasses, they offer an array of protective properties, coupling safety with a stylish design.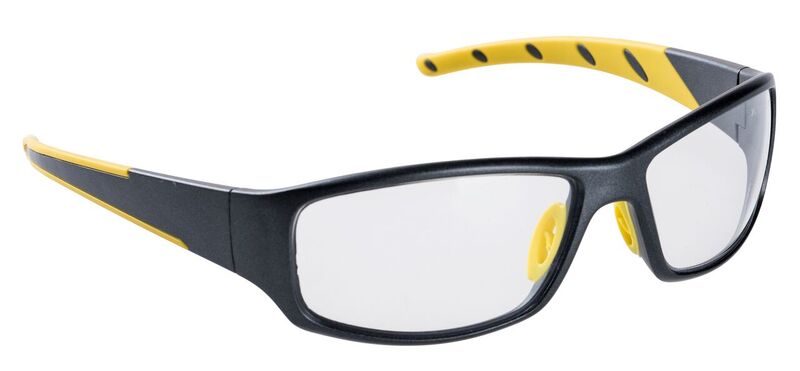 Athens Sports-Style Safety Glasses
Frameless
If your choice of frame is to have no frame at all, then you're in luck: the Portwest Profile Safety Glasses feature a stylish wraparound design with moulded nose bridge and brow guard. Other frameless safety glasses are also available within the Portwest range, ensuring you can receive the protection you require without jeopardising your style preferences.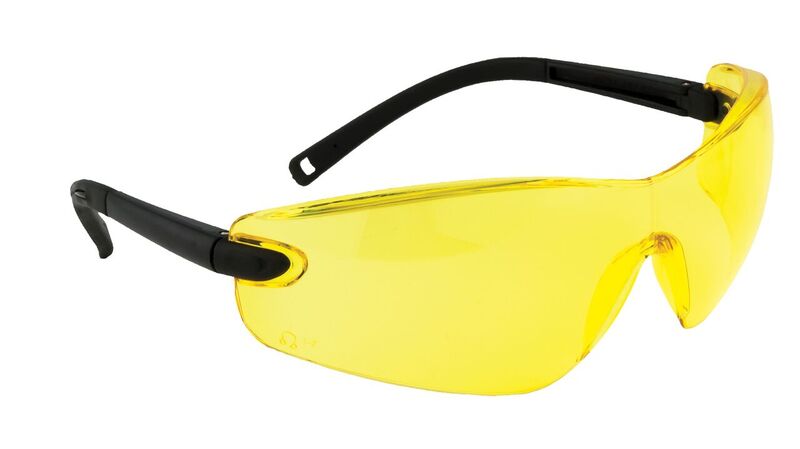 Amber-Lens Frameless Safety Glasses
Interchangeable Design
Sometimes you may prefer safety glasses, but during other tasks it may be beneficial to receive the security of an elastic strap instead of side arms. Portwest have several interchangeable glasses, such as the Tech Look Plus Safety Glasses, allowing you to choose between side arms or an elastic headband as an when you require.
Portwest Safety Goggles
Safety goggles are often preferred instead of glasses where improved protection is required. Portwest provide three main types of safety goggles:
Unvented Goggles
Unvented goggles provide protection against dust, liquids, and vapours. Goggles such as the Portwest Ultra Vista Unvented Goggles are particularly suited to protecting against large dust particles, fine dust particles, gas, and liquid splashes.
Vented Goggles
Vented goggles can be either direct vented or indirect vented. Direct ventilation goggles allow air to flow through the goggles, ideal for tough working environments. Indirect ventilation goggles are ideal where risks of splashes are present, while still allowing some ventilation to flow through.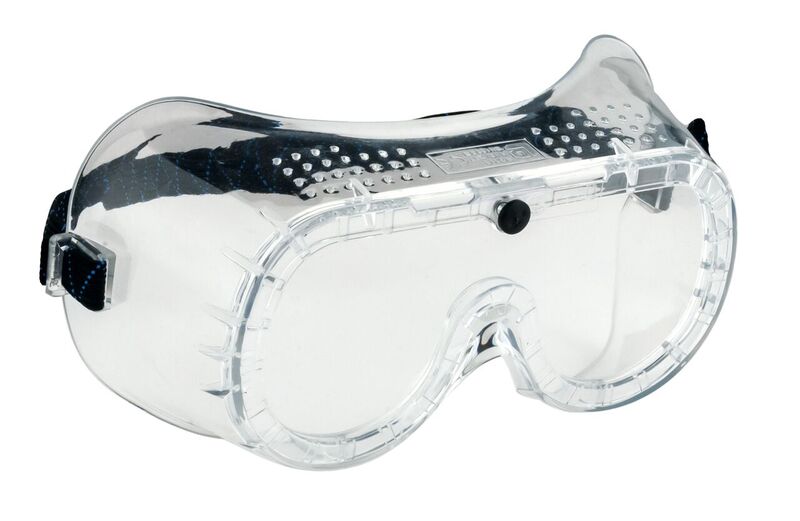 Over-the-Glasses Goggles
Removing prescription spectacles in favour of safety goggles would be counterproductive, as hindered vision would decrease safety in the workplace. With over-the-glasses (OTG) goggles, however, the best of both worlds can be received. Goggles such as the Portwest Ultra Vista Goggles have been designed to fit over prescription glasses, ensuring vision does not need to be compromised for protection against substances and particles.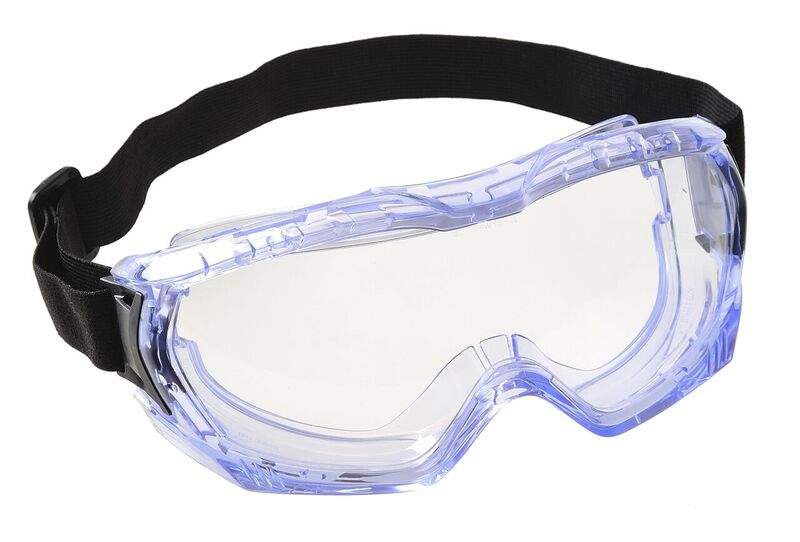 Over-the-Glasses Safety Goggles
Welding Protection
Most safety glasses and goggles are designed for versatile use, but when it comes to welding a special set of protective properties is required. Quality welding protection can be received with the Portwest range of welding eyewear, with both the Welding Safety Eye Screen Glasses and the Wide-Lens Welding Goggles providing shade 5 protection in accordance with EN 169.
For gas welding tasks, the Portwest Gas Welding Goggles are ideal; they feature a flip-up lens design to allow the goggles to be worn for grinding operations, ensuring optimal versatility. With the BizWeld Plus Welding Helmet among Portwest's range of portective eyewear for welding, welding applications can be carried out as safely and comfortably as possible.
Portwest Visors
If you feel that a visor is required for reliable protection in the workplace, then Portwest's range of safety visors are ideal for offering eye and face protection. The Portwest Browguard with Clear Visor, for example, provides impact resistance, easy adjustment, and wearability with prescription glasses. The Portwest Browguard with Mesh Visor conforms to both EN 166 and EN 1713, and provides reliable protection against large high-speed particles.
For protection against arc flashes, the Class 1 Arc Flash Visor and Class 2 Arc Flash Visor provide reliable protection with GS-ET-29. They can both be put in a stand-off position for intermittent use, allowing them to be worn during a range of tasks for ongoing protection.
Full Portwest Range
Portwest's safety glasses, goggles, and visors provide versatile protection during a wide range of tasks. If you've not seen what you're looking for here, why not visit our Portwest brand category, where you'll find our full range of protective eyewear products from Portwest? Receiving reliable protection while working is paramount to your safety and a job well done, and with Portwest you can enjoy optimal protection in comfort and style.