How To Choose the Right Safety Glasses
19 July 2018 | Admin
At SafetyGoggles.co.uk, we stock over 400 different types of eye protection, from safety glasses to welding helmets. Although at their very basic level, all the items we stock help to protect your eyes from injuries, you'd probably look out of place and suffer serious injury if you were to wear a pair of basic safety glasses for a grinding job. Thankfully we've got your back (or your front, we should say); read on to find out How to Choose the Right Safety Glasses!
How Do I Choose the Right Safety Glasses?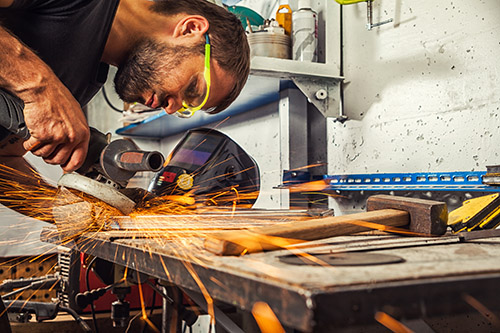 Stay safe at work by choosing the right safety glasses
When you first begin looking for a suitable pair of glasses to protect against hazards at work, you might feel overwhelmed by the sheer number of different specifications used by safety glasses – there's a lot to get your head around! Thankfully, we've been our team of experts have boned up on specifications, so we know the important aspects to consider. The first thing to perform is a risk assessment of your workplace, as the type of glasses you choose will heavily depend on this.
Assess Your Workplace for Risks
At work, you're likely to perform a wide range of tasks, some of which might require a very specific pair of safety glasses. As a result, it's important that you perform a risk assessment in your workplace. This doesn't have to be complicated; simply walking around the work spaces you use and making a note of the common hazards that arise is an excellent way of getting one step closer to knowing which glasses you need.
For instance, if you work in bright conditions, it's important that you ensure your safety glasses protect against sun glare, such as a pair from our range of Sun Glare Protection Safety Glasses. If, on the other hand, sun glare isn't an issue but you're instead worried about extreme temperatures melding your new glasses to your face, choosing a pair from our range of safety glasses that can Withstand Extreme Temperatures is probably the best option for you. Common hazards include the following:
Chemicals: If you work with chemicals, there tends to be an increased risk of splashes or vapour that could harm your eyes.
Mechanical Risks: This is by far the most common hazard. Mechanical risks are where there is a risk of particle impact from the materials you're working with.
Radiation: Radioactive materials can put you at high risk of radiation poisoning without the correct safety equipment.
Extreme Temperatures: This can harm your eyes if you're exposed to extreme temperatures for long periods. Without suitable eye protection, extreme temperatures can also reduce the efficacy of your safety glasses.
Hygiene: If you are working in a medical environment, there is always a chance of coming into contact with blood and other potential contaminants. At times, it is vital that you protect your face from coming into contact with any bodily fluids.
Consider Your Own Circumstances
Not only does your workplace carry a wide range of risks, but there might be certain aspects of your person that you have to consider before choosing your perfect pair of safety glasses. For example, if you require prescription glasses, it's integral that your safety glasses are able to accommodate this. Our range of Over-the-Glasses (OTG) Safety Glasses is designed to make your life easier. With a range of OTG safety glasses available, you can choose which version is most suitable for you.
A final consideration to make in respect to yourself is the fit and style of the glasses. If you're going to be wearing them all day every day, you're more likely to wear a pair that you feel comfortable donning. We have a wide range of styles available, from Sports Style Safety Glasses for a classy look to Panoramic Safety Glasses, which prioritise all-round safety. Whatever you choose, the majority of our safety glasses are returnable (as long as they're returned in a resellable condition with all original documentation), so if you don't find the perfect pair the first time, you can keep trying!
Learn About the Types of Different Lens and Frame Materials
The main standards relating to safety glasses are related to the lenses and frame of your eyewear. These can be extremely confusing when you first begin your search, so learn about the different eyewear specifications by reading our Safety Goggle Marking Guide blog!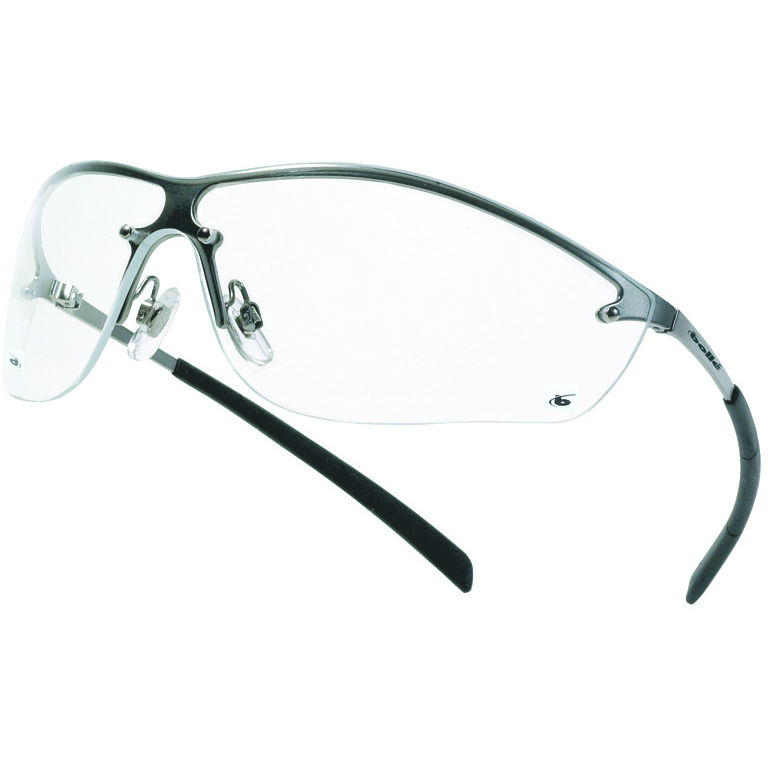 The Bollé Silium Safety Glasses are a popular choice among our customers
Let's take the example of a pair of our glasses, the Bollé Silium Clear Safety Glasses SILPSI. These glasses have a rating of 2-1.2 FT. This means that the glasses offer: UV protection with a clear filter; the highest level of light transmission (74.4 - 100%); the clearest optical quality; and a resistance against extreme temperatures and impact from small objects travelling up to 120 meters per second.
Take a Look at Our Wide Range
The last step of all, take a look at our wide range of Safety Glasses. We hope this has been a good starting off point to provide you with an idea of what you need in your next pair of PPE euewear. If you're looking to protect your eyes in the lab, our Lab Safety Glasses are an excellent way of getting the protection you need. Alternatively, our Grinding Safety Glasses will be far more effective than a pair of the basic glasses we spoke about at the beginning of this article!