How To Pick Shooting Glasses
4 July 2018 | Admin
When dealing with something as dangerous as firearms, even if it's only for clay pigeon shooting, the answer to the question why, or even if, you should be wearing protective shooting glasses is pretty obvious. We're not here to convince you that wearing shooting glasses can one day save not only your eyes, but perhaps even your life. We're here to help you pick out the right pair of shooting glasses for your needs.

What are Shooting Glasses?
First and foremost, we need to establish what shooting glasses even are. Regardless of whether you are on the shooting range, out hunting or shooting clay pigeons, protective eyewear should never be considered optional. Shooting glasses will protect your eyes from:
Mechanical injuries. This includes everything from an errant birdshot or a ricochet, to excessive powder that can blow back and burn your eyes, or spent cartridges that are ejected from the firearm.
Environment. If you are shooting in a thick wooded area, your eyes can easily be harmed by stray branches, twigs and leaves.
UV light. With our depleting ozone layer, protection from ultraviolet radiation is just as important as keeping your eyes safe from mechanical injuries.
Are all Lenses Created Equal?
Crown glass, CR39 plastic and polycarbonate (PC) are the three materials most commonly used for making lenses, with polycarbonate being the number one choice of most users. Unlike similar materials, polycarbonate produces lenses that are lighter, more durable, more impact-resistant and more scratch-resistant than similar products – everything you would want from your shooting glasses. And the best part is that polycarbonate shooting glasses are actually available at highly affordable prices, so there is no reason for you to settle for anything less.
Is Lens UV Protection Important?
In a word, yes. Ultraviolet radiation causes keratitis, more commonly known as "snow blindness", contributes to the development of cataracts, and may even be a contributing cause of degeneration of the retinal pigment epithelium. While proper UV protection is important in all aspects of your life, choosing shooting glasses that block UV radiation is just another step you can take towards keeping your eyes properly protected at all times.
Choosing the Right Tint
Lenses come in various colours, and while they are usually equally protective against mechanical hazards, their usability may differ. Choosing the right lens tint for your needs depends on your personal preferences, so be sure to consider when you will be using your shooting glasses most often.
Clear, Smoke, Grey and Grey-Green Tints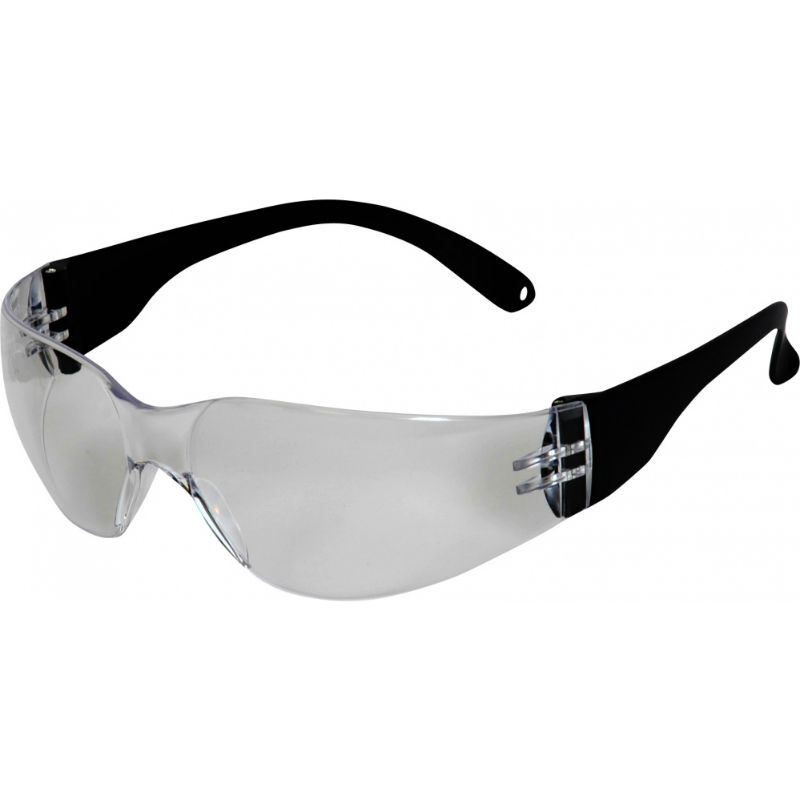 Clear, smoke, grey and grey-green tints are the most common lens colours, as they block glare without changing your colour perception. This makes them ideal for all-weather use, as they allow you to see all colours exactly as they are.
Our Pick: We highly recommend the UCi Java Clear Safety Glasses I907 with a durable yet lightweight polycarbonate construction. Both the frame and the lens are certified to protect against low energy impact of up to 45 metres per second, while an added coating improves their scratch-resistance.
Amber Tint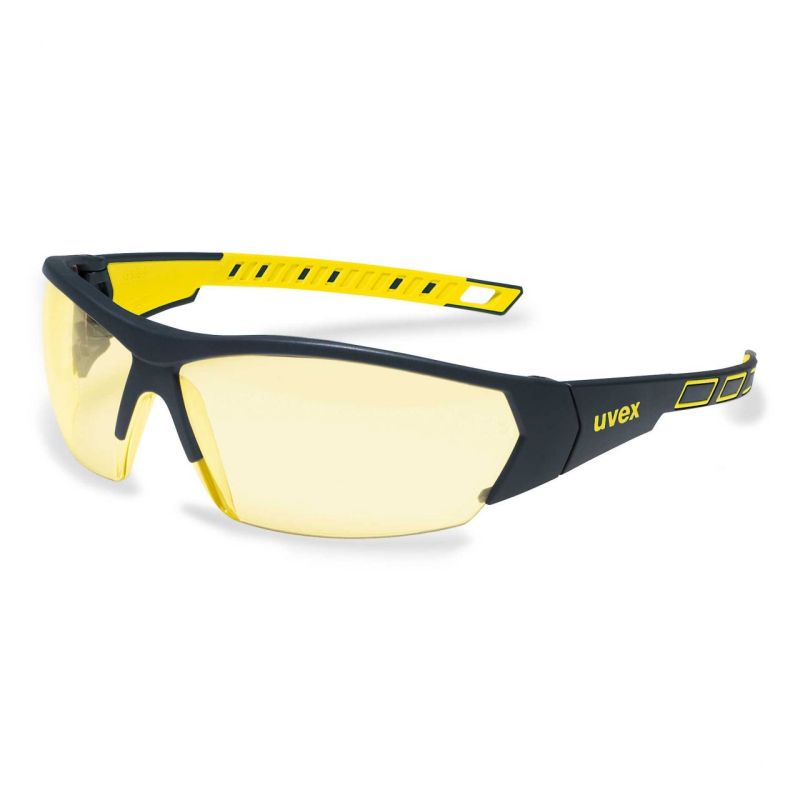 Amber lens tints are effective at blocking the blue light, which is common for diffused light sources. You might want to consider amber tinted lenses if you often shoot on cloudy days.
Our Pick: With their strong frame, good UV radiation protection and scratch-resistant lenses that protect against low energy impact of up to 45 metres per second, the Uvex i-Works Amber Safety Glasses 9194-365 are everything you could want from shooting glasses. We recommend them as our number of choice for amber shooting glasses.
Yellow and Orange Tints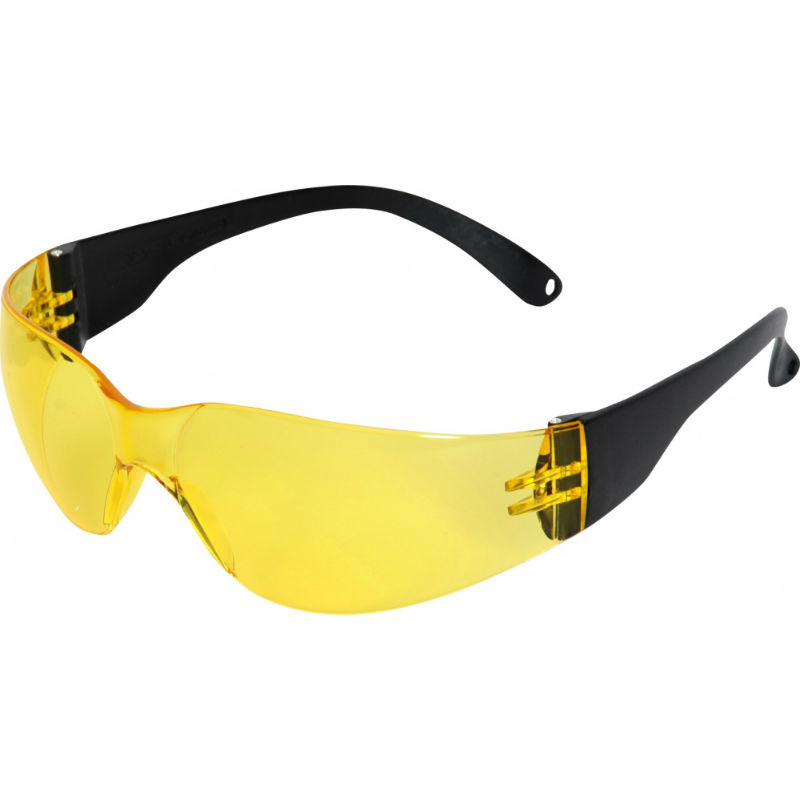 Yellow and orange tints block haze and blue light, enhancing the orange colour of your target. Bright yellow lenses are ideal for use at night.
Our Pick: These UCi Java Yellow Lens Safety Glasses I907-YE are also designed to protect against low energy impact up to 45 metres per second, with a polycarbonate construction that is both durable and lightweight, as well as scratch-resistant coating. Moreover, they come with UV protection and high light transmission rating.
Purple Tint
Purple tinted lenses are particularly good for seeing an orange target when the background is green. Needless to say, this is ideal if you are shooting in the woods.
Quick Check List
There's quite a lot of leeway in terms of what kind of glasses you can use for shooting, especially when it comes to their design or lens colour, but the best ones usually have a few things in common. Before making a purchase, we recommend you go over this check list to make sure your chosen glasses have all the best features:
Polycarbonate (PC) lens
Scratch-resistant coating
Protection from UV radiation
Lens tint that suits your preferences
Comfortable, lightweight frame